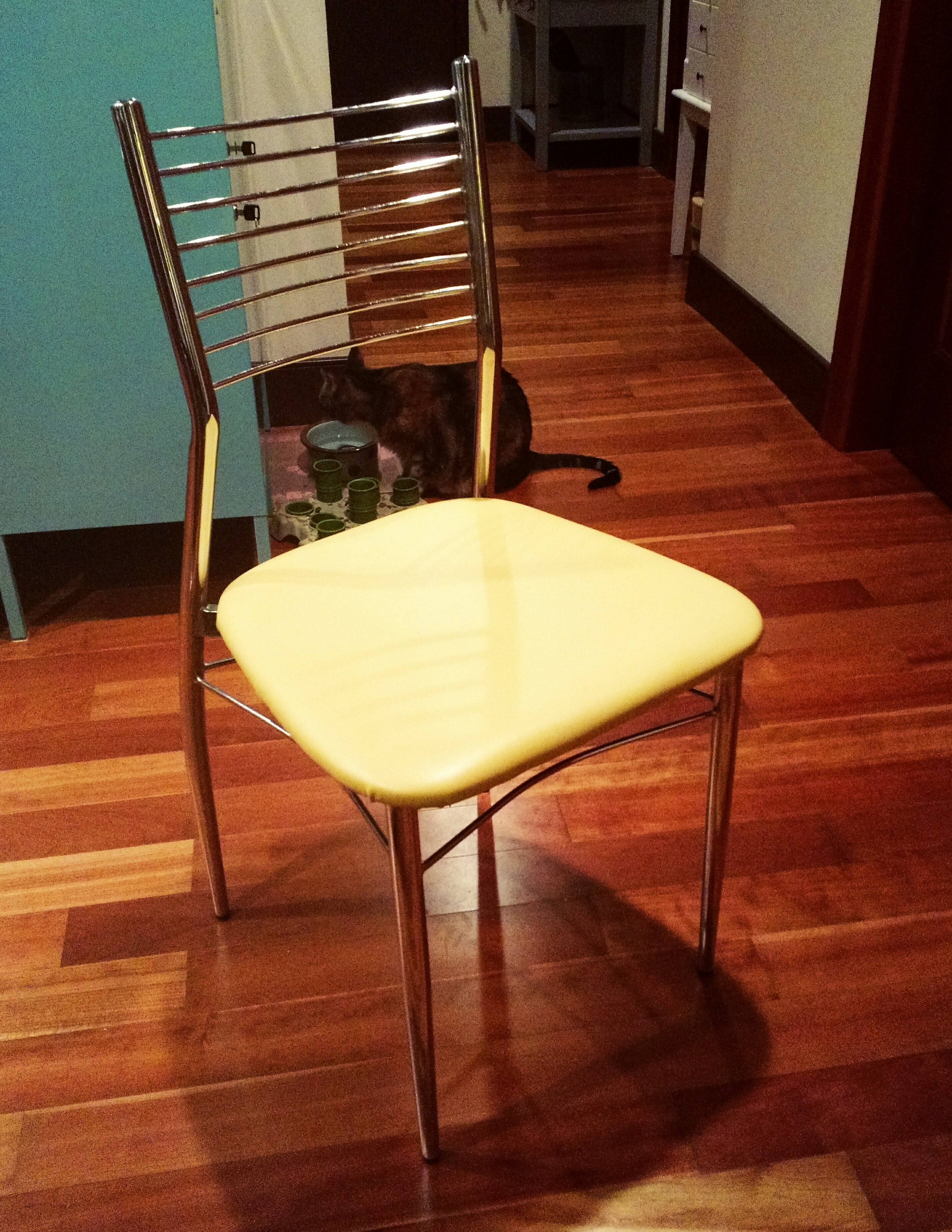 About seven years ago, I bought four of these chairs from a store in Glendale.  I love these chairs. They're so delightfully midcentury mod and happy.  (The photo really doesn't do it justice as the lighting is horrible and Roxie wouldn't get out of the way.)
The Chrome Lining…
Recently, one of them broke in a very fixable way – the pressboard mounted between the foam and the metal crumbled, rendering the chair almost unsittable. (Yes, I just said "unsittable".)  I'm going to use this as an opportunity to upgrade all four chairs. Here's my plan:
Research how the heck I'm going to go about this with my current Shopping Small Challenge – so I guess I'll be looking up small retailers this weekend.
Buy seat-sized pieces of lumber that will also cut them into seat shapes.
Purchase and cut foam. Thicker and denser than the current stuff. The chairs are charming, but not particularly comfortable.
Then the exciting part: pick out some new fabric to reupholster the seat!
Borrow an electric drill…
Indecision!
Do I want to stick with yellow vinyl? Maybe. I really do like the current aesthetic.  But I could choose any other color vinyl… I could even venture entirely away from vinyl and choose a patterned upholstery fabric.  If I go with a pattern, I'm tempted to pick something very ornate or victorian in nature for a fun juxtaposition with the midcentury mod look of the chairs.  I think it could work because we have very few patterns in our home – with the exception of throw pillows, all of our color is solid.  SO MANY CHOICES!
Doing it?
I'm really excited to get started on this, but it's difficult to find the time – especially when I have no idea how long the project will take. I found with my painting projects that each one was an investment that took at least eight hours. Maybe I'll approach it in phases: this weekend I'll research the retailers and next weekend I'll pick up all my supplies. Then the following weekend I'll actually do the work! Stay tuned. They'll either be brilliant, or a horrific fail.