So today is the first day where I officially purchase exclusively from small businesses. Excited and nervous!
A Final Goodbye to Old Habits…
I'm still sick, so yesterday, my last hurrah Amazon style was to order some home necessities from Prime Now that I didn't feel well enough to go out and purchase. It didn't go well. I was totally groggy and out of it so I accidentally ordered the items to CJ's office instead of home. To make it worse, I thought I was ordering one box of hot chocolate packets…turned out I actually ordered three giant boxes of hot chocolate k-cups. WOOPS. I don't even have a Keurig.
Well, I won't be doing that again…or at least not for the next three months. The less-than-satisfactory experience has made the transition a bit easier, I think.
Getting in the Mood…
To celebrate/console myself about the start of my new challenge, I stopped in at Endless Knot during my lunch break. My intention was specifically to pick up a new shirt. (My current l/s shirt/blouse situation is not acceptable.) I did not find the shirt I was looking for, however I found a wonderful sweater with elbow patches and this darling dress.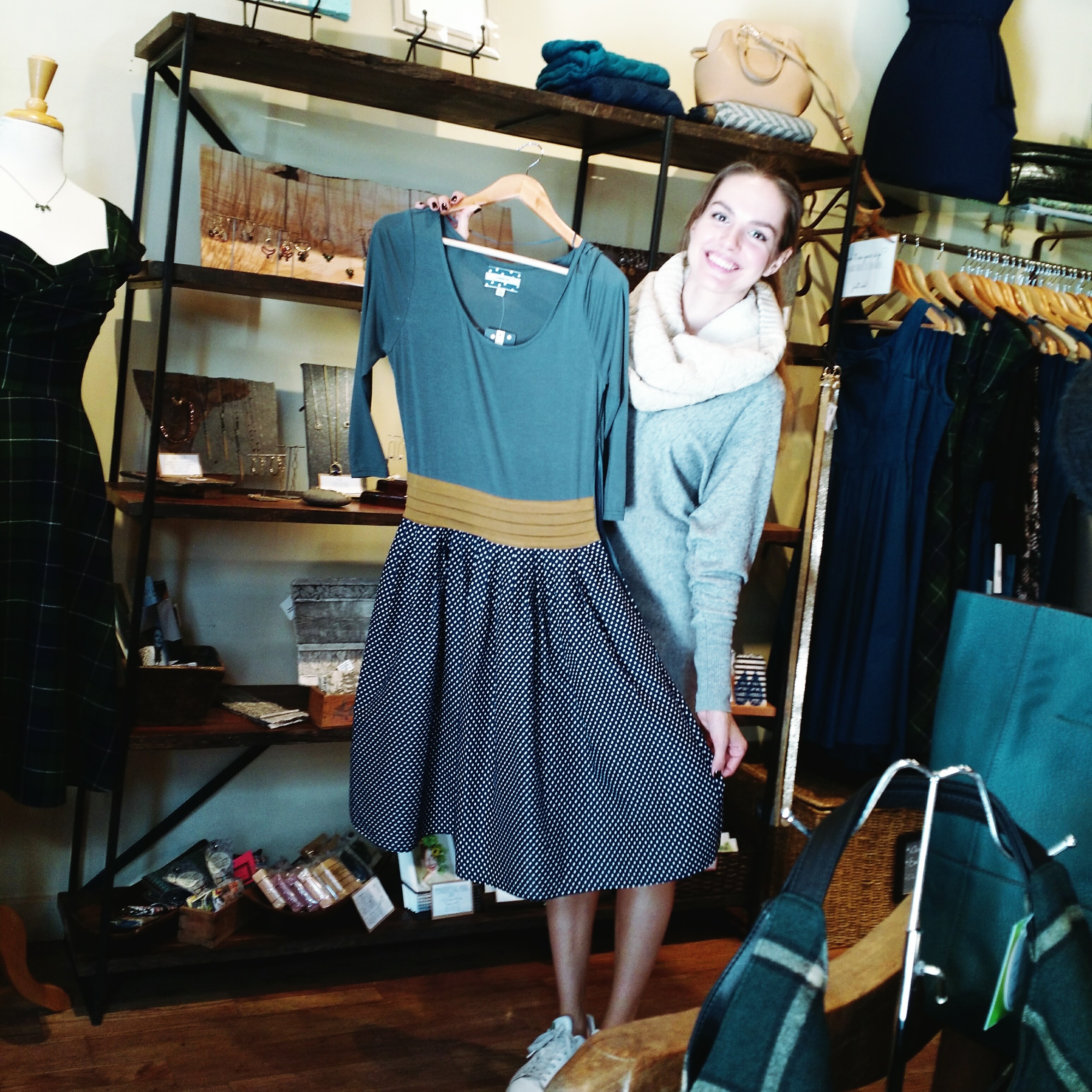 Both the sweater and the dress are coming home with me.  The sweater because that exact item was on my list (I just didn't realize I'd find it today!) and the dress because it fit my long torso (rarity!) Tomorrow is going to be a beautiful fall day with a high of 70 degrees. Hello, new dress!
I definitely think clothing is going to be the easy part of my experiment. Maybe too easy…
Planning for Planning
CJ and I are creatures of habit. Sundays are generally reserved for grocery shopping and laundry. This Sunday is going to have to be a bit different as I'll need to find local stores to purchase things like laundry detergent, Lysterine, paper towels, etc. Also, I think I need to start making my holiday lists now!